Overview
Unity Lake State Recreation Site is a Bortle 2 scale site with excellent dark skies due to its distance from cities and other light pollution.
The site was created when the Unity Dam was constructed in 1938 by the United States Bureau of Reclamation as an irrigation storage project on the Burnt River. The creation of the dam led to the creation of the Unity Reservoir. It is worth noting that the dam does not produce hydroelectric power.
Located in Oregon's high desert, seasonal camping from April 1st to October 31st is offered. There are a plethora of public lands, historical areas, and wilderness areas that are close to the lake that one can visit. Springtime is a great time for fishing.
The day-use area has picnic tables on a large expanse of lawn with ample shade. This area includes a boat ramp, boat trailer parking, restrooms and water.
Location
How far outside of Portland? ~347 miles depending on the route taken. This make the drive around 5 hour and 54 minutes drive depending on traffic and stops.
Overnight Accommodations
Reservations can be made 6 months ahead of time. There are 35 electrical sites available from April 1 – Oct 31. Available year round are 3 sites, which are 2 cabins and 1 walk to site.
Weather
The current weather can be found here.
Current Seeing Conditions/Forecast Charts
The following cleardarksky chart is near Table Rock, Oregon, which is roughly 26.2 miles from the park, which is the closest cleardarksky site to the park.

The following clearoutside.com chart will provide a great resource for the skies for those who want to visit.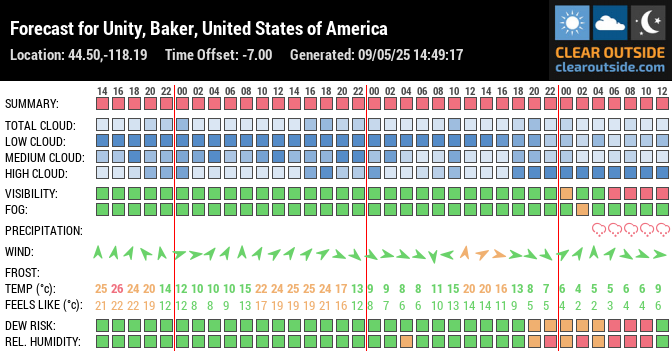 Make sure to follow us on Twitter and Instagram, and make sure to view our other unique astronomy sites such as this one for more places to view astronomy in the Pacific Northwest.