Sawtooth National Forest is a National Forest that covers 2,110,408 acres. Managed by the U.S. Forest Service in the U.S. Department of Agriculture, it was originally named the Sawtooth Forest Reserve in a proclamation issued by President Theodore Roosevelt on May 29, 1905. The forest is managed as four units: the SNRA and the Fairfield, Ketchum, and Minidoka Ranger Districts. Sawtooth National Forest offers facilities for recreation, with four ski areas, whitewater and flatwater boating, hunting, 81 campgrounds, and over 1,000 mi (1,600 km) of trails and roads for hiking, mountain biking, and all-terrain vehicle use, including two National Recreation Trails.
This is a great astronomy location as it is part of the Central Idaho Dark Sky Reserve, which is an IDA Dark Sky site. Sites such as the Smokey Bear Campground and Hell Roaring Lake are some examples of the pristine astronomy and Milky Way viewing. On nights of strong Aurora Borealis, this could be a great opportunity to view it with the amazing dark skies.
Location
How far outside of Boise? ~117 miles depending on the route taken. This makes the drive around 2 hours and 20 minutes depending on traffic and stops.
Overnight Accommodations
There are 81 onsite campgrounds, with the camping season usually extends from Memorial Day to about mid-September. Fee boxes are located at each campground. Regulations and camping limits are posted at each campground.  Some campgrounds can be reserved ahead of time, while others cannot be. For more specific information on campgrounds, check out the US Forest Service website.
Weather
The current weather can be found here, and is available for 6-7 days in advance.
Current Seeing Conditions/Forecast Charts
The clear sky charts below show a summary of the area, with specific sites in the forest will change slightly depending on the specific latitude and longitude.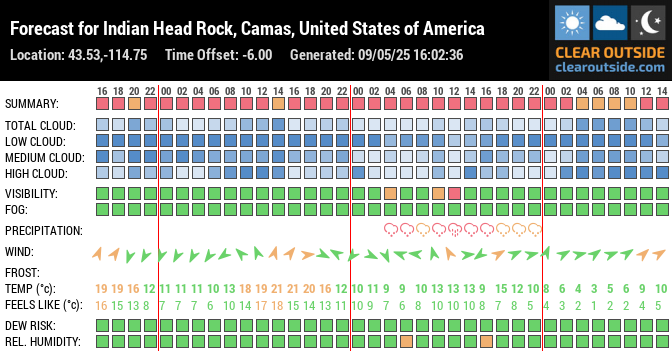 Make sure to follow us on Twitter and Instagram, and make sure to view our other unique astronomy sites such as this one for more places to view astronomy in the Pacific Northwest.