Overview
Located along the Sunset Highway (US Route 26) a bit further towards the Coast than Sub Stewart, Saddle Mountain State Natural Area is a hidden gem. Cherished for the rare wildflowers and stunning viewpoint at the 3,290-foot summit, Saddle Mountain is an interesting place for those who enjoy a new experience taking photos of the Milky Way at a dark Bortle 2 site.
As stated by the Oregon State Parks, "On a clear day, the panoramic view (at the summit) includes the sweep of the Columbia River as it enters the sea and miles of Pacific shoreline to the west; to the east, the Cascade Mountains in Oregon and Washington frame the horizon." This makes a perfect view for those who make the trek. The hike itself climbs 1,603 feet over 2.5 miles, which is steep and difficult in spots. For those looking to camp, it is a first come, first serve.
For those not up for the rigorous climb, there is the 10 minute Humbug Mountain Viewpoint trail that shoots off from the main trail a quarter mile from the trailhead. 
Location
How far outside of Portland? ~78.3 miles depending on the route taken. This make the drive around 2 hours and 1 minute drive depending on traffic and stops.
Overnight Accommodations
There are 10 primitive, walk-in tent sites that are open seasonally, from March – October.
Weather
The current weather can be found here.
Current Seeing Conditions/Forecast Charts
The closest cleardarksky chart provides a forecast/clear dark sky chart is a 38 mile drive away, which is Salmonberry. This is great to use a sense of the general area, but not close enough to be useful for the site specifically.
The following clearoutside.com chart will provide a great resource for the skies for those who want to visit.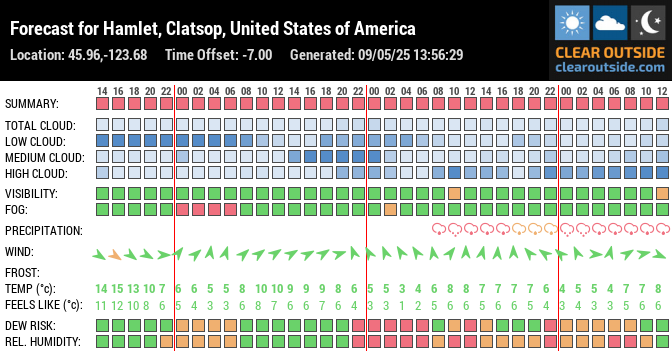 Make sure to follow us on Twitter and Instagram, and make sure to view our other unique astronomy sites such as this one for more places to view astronomy in the Pacific Northwest.