Overview
Priest Lake State Park is a Bortle 2 scale site with excellent dark skies due to its distance from cities and other light pollution. The park lies just 30 miles from the Canadian border, nestled deep below the crest of the Selkirk Mountains. Surrounded by the natural beauty of Northern Idaho and mile-high mountains, Priest Lake State Park sits along the eastern shores of Priest Lake, a 19-mile long, 300-foot-deep waterbody.
There are dense forests of cedar, fir and tamarack and will be able to observe the park's year round inhabitants such as the whitetail deer, black bear, moose and bald eagles. Noted for its extremely clear water, fed by streams cascading from the high Selkirk peaks, the main body of Priest Lake extends north-south for 19 miles. A two-mile thoroughfare connects the main lake to the remote Upper Priest Lake that is accessible only by foot, mountain bike, or boat.
A $7.00 Motor Vehicle Entrance Fee (MVEF) is required for every vehicle entering Idaho State Parks (including visitors to campers). Places for astrophotography or astronomy will be along the lakes and clearings.
Location
How far outside of Boise? ~374 miles depending on the route taken. This make the drive around 8 hours and 45 minute drive depending on traffic and stops. And it is 6 hours and 24 minutes from Seattle.
Overnight Accommodations
The park has a total of 152 sites, with the breakdown being 75 basic sites, 6 group camper sites, 59 electric, 1 group lodging, and 11 full hookups.
Costs:
| | | |
| --- | --- | --- |
| | Resident Fees | Non-Resident Fees |
| Basic Campsite | $24 per night | $48 per night |
| Electric Campsite | $30 per night | $60 per night |
| Full Hook-Up Site | $32 per night | $64 per night |
| Group Camp | $300 per night | $350 per night |
| Cabins | $60-$70 per night | $65-$75 per night |
You can book stays in any Idaho State Park for up to 9 months in advance from today's date.
Weather
The current weather can be found here.
Current Seeing Conditions/Forecast Charts
The following cleardarksky chart provides a forecast/clear dark sky chart for the closest spot that the website has on the park, which is 62 mile drive.

The following clearoutside.com chart will provide a great resource for the skies for those who want to visit.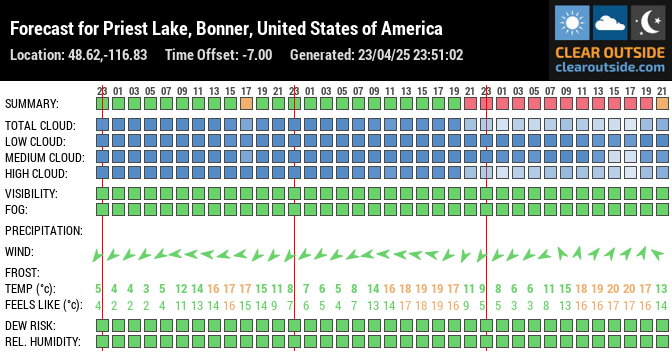 Make sure to follow us on Twitter and Instagram, and make sure to view our other unique astronomy sites such as this one for more places to view astronomy in the Pacific Northwest.