Overview
Palouse Falls State Park is a Bortle Scale 2, as it is far away from city lights, meaning that it is very dark and can easily view the Milky Way.
According to the Washington State Parks and Recreation, "This 94-acre park has limited, first-come, first-served tent camping and is known as an ideal picnic and birding spot.
The park offers three distinct views of the falls. The lower viewpoint provides a direct view; it is reached by a set of steps from the main day-use area adjacent to the parking lot. The second, at the end of a paved interpretive path, tells the story of the secluded canyon. Both the interpretive path and gravel secondary parking area lead to the third and highest viewpoint, the Fryxell Overlook, offering panoramic views of the falls and Palouse River Canyon.
Carved more than 13,000 years ago, Palouse Falls is among the last active waterfalls on the Ice Age floods path. In 2014, Palouse Falls was named Washington's state waterfall, when the state Legislature passed a bill written by local schoolchildren, who advocated for the designation."
Location
How far outside of Seattle? ~237 miles depending on the route taken. This makes the drive around 4 hours depending on traffic and stops.
The entry fee for going to the park is $10.
Overnight Accommodations
This park has a tent-only campground with 11 primitive campsites and a pit toilet. One tent site is ADA accessible. Each space can accommodate up to two tents and four people. Sites have no hookups. Each space includes a picnic table and fire pit. Braziers are available. Drinking water is available from April to October.
Reservations can be made up to 12 months in advance, but camping was closed for COVID-19.
Weather
The current weather forecast and forecast for up to 7 days in the future can be found here.
Current Seeing Conditions/Forecast Charts
The Clear Dark Sky website does have an entry for the site as it is where the Palouse Falls Star Party is held.

The following is a ClearOutside clear star chart for the Falls.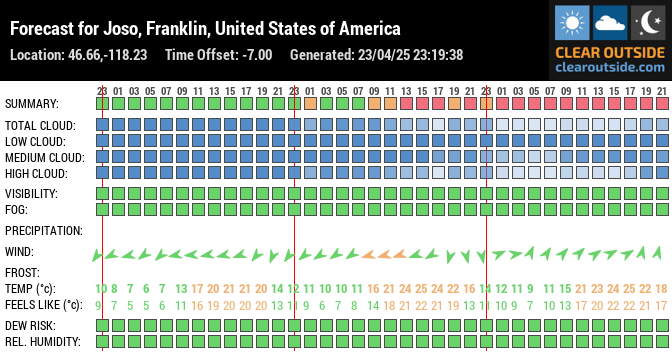 Make sure to follow us on Twitter and Instagram, and make sure to view our other unique astronomy sites such as this one for more places to view astronomy in the Pacific Northwest.