Overview
Located in the northern Siskiyou Mountains of southwestern Oregon, the Oregon Caves National Monument and Preserve is a 4,554 acre protected area. The monument is managed by the National Park Service, NPS, and is located near the Oregon–California border.
Discovered in 1874, the caves were the home to several failed tourist ventures, until it the site become established as the Oregon Caves National Monument in 1909. The Antiquities Act said that the site was to be managed by the United States Forest Service. With the construction of roads and highways and introduction of cars meant that the cave increased visitation. In 1933, the NPS assumed control of the monument and will offer tours of the cave from mid-April through early November. The NPS homepage for the Oregon Caves can be found at https://www.nps.gov/orca/index.htm.
Activities at the park include cave touring, hiking, photography, and wildlife viewing. One of the park trails leads through the forest to Big Tree, which at 13 feet, is the widest Douglas fir known in Oregon.
Astronomy
The Caves are a Bortle 2 scale, having be so far away from city lights. There are a plethora of options for astronomy in the area. Please be aware that hiking to spots to take photos or use a telescope to requires safety considerations to be taken and potential permission considerations so that you're not trespassing.
The Grants Pass Astronomers used to hold star parties at the visitor center parking lot. Located 1 mile from the visitor center, the Cliff Nature Trail provides beautiful views of the Illinois Valley, which are great for taking photos with a DSLR and astronomy with gear one can carry. There is also the much longer 8 mile Bigelow Lakes – Mount Elijah Loop Trail, which on clear days offer views of Mt. Shasta and Preston Peak.
There are other locations that could be used for astronomy, which are waiting to be discovered!
Location
How far outside of Portland? ~289 miles depending on the route taken. This make the drive around 4 hours and 54 minutes depending on traffic and stops.
Google Maps Location
Overnight Accommodations
There are several campgrounds and lodging options available to the traveler to the caves. There are several campgrounds in the area including Cave Creek Campground, Grayback Campground, Lake Selma Park, and Chinquapin Group Campground. Lodging includes:
The Oregon Caves Chateau, PO Box 1824, 20000 Caves Hwy., Cave Junction, 877-245-9022 or (541) 592-3400.
www.oregoncaveschateau.com. Located at the Monument and it's a National Historic Landmark.
Country Hills Resort, 7901 Caves Highway, Cave Junction (541) 592-3406. www.countryhillsresort.com
Holiday Motel, 24810 Redwood Highway, Kerby (541) 592-3003.
Junction Inn, 406 S Redwood Highway, Cave Junction (541) 592-3106. This motel has 60 units and a restaurant.
Kerbyville Inn B&B, 24304 Redwood Highway, Cave Junction (541) 592-4689. www.bridgeviewwine.com
Madrone Motel, 34249 Redwood Highway, O'Brien (541) 596-2498.
The Nielsen's Almost Heaven Resort, 38548 Redwood Highway (541) 596-2952.
Out `N About Bed & Breakfast, 300 Page Creek Road, Takilma (541) 592-2208.www.treehouses.com Be sure to make reservations for this well in advanced.
More camping and lodging can be viewed at https://www.nps.gov/orca/planyourvisit/campgrounds.htm
Current Seeing Conditions/Forecast Charts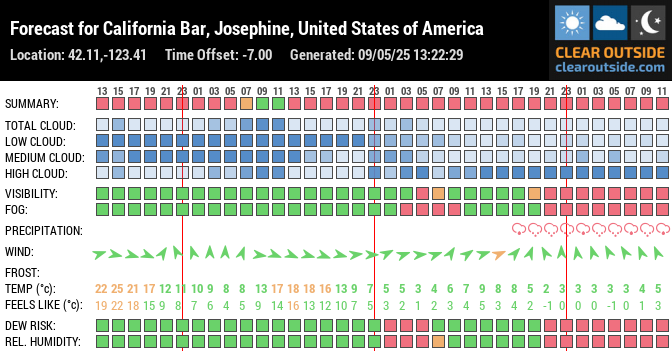 Make sure to follow us on Twitter and Instagram, and make sure to view our other unique astronomy sites such as this one for more places to view astronomy in the Pacific Northwest.