Lake Wenatchee State Park is a 492-acre camping park with 12,623 feet of waterfront on glacier-fed Lake Wenatchee and the Wenatchee River. Located 16 miles from the Bavarian theme town of Leavenworth, the park is a natural wildlife area, and visitors should be aware of the presence of bears and other natural dangers.
Lake Wenatchee is a Northwest icon, a clear blue lake surrounded by mountains. Though its shallow lagoon is perfect for pint-sized swimmers, the 5-mile-long lake is 244 feet deep at its greatest depth and is a popular destination for boaters and windsurfers. Beginning kayakers and standup paddlers can rent boats and boards at the lake and navigate the calmer waters near the shore.
This is a great location for those looking to get away from the city lights and experience the dark skies in the mountains. By day you can enjoy the panoramic views of those mountains reflected in the lake, and at night, view the Milky Way and night sky.
It is a class 2 bottle sky site and has a lot of areas to explore for viewing the night sky!
Location
How far outside of Seattle? ~107 miles depending on the route taken. This make the drive around 2 hours and 7 minute drive depending on traffic and stops.
Overnight Accommodations
The park has 155 standard campsites, 42 partial-hookup sites, one dump station, seven restrooms and 16 showers. In addition, the park provides two ADA campsites.The south campground (sites 1 – 100) has parking pads 30 to 40 feet in length, with only two pull-through sites. Larger RVs and fifth-wheelers should use the north campground (sites 101 – 197) which includes 42 large pull-through utility sites. Maximum tents allowed are one family tent or up to two 2-3 man tents. Maximum vehicles allowed are two per site, additional vehicles may park in overflow areas.
Check-in time is 2:30 p.m. Check-out time is 1 p.m. You can book stays in any Washington State Park for up to 9 months in advance from today's date.
Weather
The current weather can be found here.
Current Seeing Conditions/Forecast Charts

The following clearoutside.com chart will provide a great resource for the skies for those who want to visit.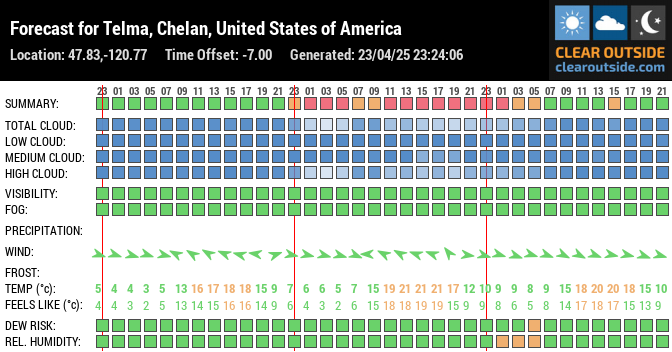 Make sure to follow us on Twitter and Instagram, and make sure to view our other unique astronomy sites such as this one for more places to view astronomy in the Pacific Northwest.