Lake Pend Oreille is Idaho's biggest, at 43 miles long with 111 miles of shoreline. It's also the deepest, it is the 5th largest lake in the US. Dug out by Ice Age glaciers and located amid three major frontal ranges of the northern Rocky Mountains, it has natural splendor galore to go with a fascinating human and natural history.
Lake Pend Oreille is the 38th-largest lake by area in the United States, with a surface area of 148 square miles (380 km2). The lake is fed by the Clark Fork River and the Pack River, and drains into the Pend Oreille River, as well as subsurfacely into the Spokane Valley–Rathdrum Prairie Aquifer. It is surrounded by national forests and a few small towns, with the largest population on the lake at Sandpoint.
There are a plethora of Milky Way and astronomy locations around the lake. This makes the lake an amazing place to visit and do astronomy at.
Location
How far outside of Portland? ~437 miles depending on the route taken. This makes the drive around 9 hours and 35 minutes depending on traffic and stops.
Overnight Accommodations
There are several sites with numerous points, including Springy Point, Sam Owen, and Riley Creek. To make reservations, check out https://www.recreation.gov/camping/gateways/249
Weather
The current weather can be found here.
Current Seeing Conditions/Forecast Charts
The follow clear sky charts will help with forecasting.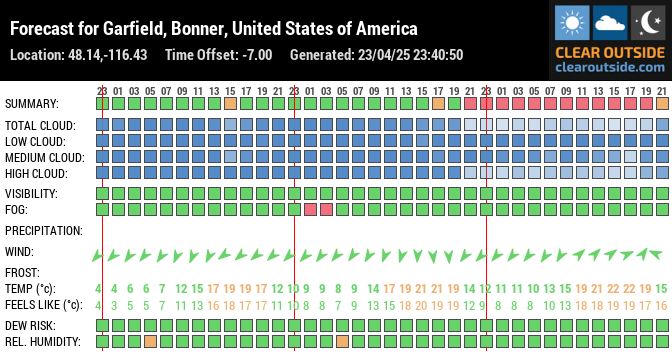 Make sure to follow us on Twitter and Instagram, and make sure to view our other unique astronomy sites such as this one for more places to view astronomy in the Pacific Northwest.