Overview
Offering year round camping and views of the ocean, Humbug Mountain State Park is a Bortle 2 scale park with excellent dark skies due to its distance from cities and other light pollution. The campground is forest-ringed along Brush Creek and there is a trail from the campground leads under Highway 101 to a sandy beach beside the Brush Creek estuary.
Humbug Mountain State Park is well known as one of the Oregon coast's highest headlands, which hosts a 5.5-mile hike to the 1,765-foot summit of Humbug Mountain offers south-facing ocean views. The Oregon Coast Trail also passes through the park.
According to the Oregon State Parks, "the original land purchase from Carl White in 1926 was 30.6 acres near the mouth of Brush Creek. Sixteen other tracts were purchased between 1930 and 1975. Initial development of Humbug Mountain commenced in 1934 using Civilian Conservation Corps forces. In 1952, overnight camping was developed to offer visitors opportunity for an extended stay."
Location
How far outside of Portland? ~279 miles depending on the route taken. This make the drive around 5 hour drive depending on traffic and stops.
Overnight Accommodations
Reservations can be made 6 months ahead of time. There are 95 total campsites, 2 ADA standard sites, 4 host sites, 33 standard sites, and 56 tent sites.
Weather
The current weather can be found here.
Current Seeing Conditions/Forecast Charts
The following cleardarksky chart is near Rogue River Observatory near Gold Beach Oregon, which is roughly 23 mile drive to the south from the park, which is the closest cleardarksky site to the park. There is a chart in Bandon, but that that is to the north of the park.

The following clearoutside.com chart will provide a great resource for the skies for those who want to visit.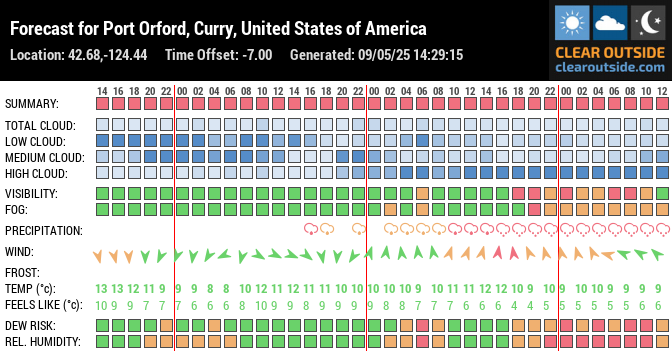 Make sure to follow us on Twitter and Instagram, and make sure to view our other unique astronomy sites such as this one for more places to view astronomy in the Pacific Northwest.