Overview
The Harriman State Park is a Bortle 2 scale site with excellent dark skies due to its distance from cities and other light pollution.
Harriman State Park is located on the 11,000-acre Harriman Wildlife Refuge in Fremont County, Idaho and is located three miles south of Island Park in eastern Idaho, United States. The state park is within the Henry's Fork Caldera in the Greater Yellowstone Ecosystem. It is home to an abundance of wildlife including elk, moose, sandhill cranes, trumpeter swans, and black or grizzly bears. Two-thirds of the trumpeter swans that winter in the contiguous United States spend the season in Harriman State Park.
From 1902 to 1977, the land that the park is on was owned by Union Pacific Railroad investors. The land was then deeded to Idaho for free in 1977. The park would open to the public in 1982.
The park offers trails for hiking, biking, and horseback riding. A $7.00 Motor Vehicle Entrance Fee (MVEF) is required for every vehicle entering Idaho State Parks (including visitors to campers).
Location
How far outside of Boise? ~351 miles depending on the route taken. This make the drive around 5 hours and 08 minute drive depending on traffic and stops.
Overnight Accommodations
The park has a total of 8 campsites. 1 Shelter, 1 Deluxe Yurt, 2 Premium Yurt, and 4 Houses.
Costs:
| | | |
| --- | --- | --- |
|   | Resident Costs | Non-Resident Costs |
| Ranch Manager's House | $250 per night | $275 per night |
| Cattle Foreman's House | $200 per night | $220 per night |
| Bunkhouse & Cookhouse | $250 per night | $250-275 per night |
| Premium Yurts: | $75 per night | $80 per night |
| Deluxe Yurts | $85 per night | $80 per night |
You can book stays in any Idaho State Park for up to 9 months in advance from today's date.
Weather
The current weather can be found here.
Current Seeing Conditions/Forecast Charts
The following cleardarksky chart provides a forecast/clear dark sky chart for the RV Park adjacent to Henry's Lake State Park. This is the closest ClearDarkSky chart, which is a 25 mile or 30 minute drive from Harriman State Park.

The following clearoutside.com chart will provide a great resource for the skies for those who want to visit.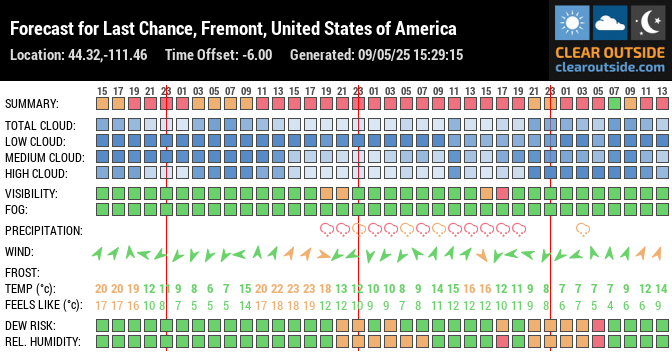 Make sure to follow us on Twitter and Instagram, and make sure to view our other unique astronomy sites such as this one for more places to view astronomy in the Pacific Northwest.