Overview
The City of Rocks National Reserve is a Bortle 2 scale site with excellent dark skies due to its distance from cities and other light pollution.
Located approximately 2 miles north of the border with Utah, the reserve is widely known for its enormous granite rock formations and excellent rock climbing. The rock spires in the City of Rocks and adjacent Castle Rocks State Park are largely composed of granitic rock.
During the 1840s and 1850s, when wagon trains on the California Trail left the Raft River valley and traveled through the area and over Granite Pass into Nevada, the travelers would notice the large granite stones resembled city buildings in a way. The area's historical and geological values, scenery, and opportunities for recreation led to its designation as City of Rocks National Reserve in 1988. This unit of the National Park System is managed cooperatively by the National Park Service and the Idaho Department of Parks and Recreation.
Open 7am to 10pm for day use. Recommend to go to State Park, as NPS land requires permits to take photos. A $7.00 Motor Vehicle Entrance Fee (MVEF) is required for every vehicle entering Idaho State Parks (including visitors to campers).
Location
How far outside of Boise? ~207 miles depending on the route taken. This make the drive around 3 hours and 20 minute drive depending on traffic and stops.
Overnight Accommodations
The park has 65 total campsites, with 62 sites of the Basic variety of 3 Group campsites.
Costs:
Basic Campsite: $14 per night
Group sites: $100, Maximum of 25 people & 7 Vehicles
You can book stays in any Idaho State Park for up to 9 months in advance from today's date.
Weather
The current weather can be found here.
Current Seeing Conditions/Forecast Charts
The following cleardarksky chart provides a forecast/clear dark sky chart.

The following clearoutside.com chart will provide a great resource for the skies for those who want to visit.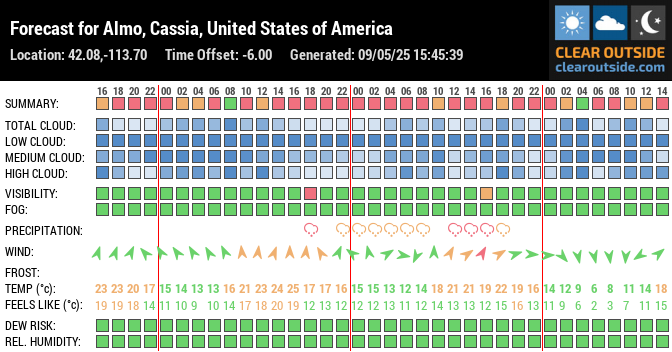 Make sure to follow us on Twitter and Instagram, and make sure to view our other unique astronomy sites such as this one for more places to view astronomy in the Pacific Northwest.