Overview
Attracting rock climbers from around the world due to its challenging landscape, Castle Rocks State Park is a great outdoors location. The park is a Bortle 2 scale with excellent dark skies due to its distance from cities and other light pollution. Other outdoor activities include hiking, mountain biking and horseback riding, which has a backdrop that dates back 2.5 million years.
Evidence suggests that people have been coming to Castle Rocks for nearly 9,000 years. The available campsites are nestled among Idaho's largest pinyon pine forest on the east slope of the 7,500-foot Smoky Mountain.
Outdoor sites include remnants of Native American pictographs, historic trail crossings, and 20th century ranching are visible in the park today. There are 4 hikes in the area, ranging from 1 to 6 miles in length at the park.
A $7.00 Motor Vehicle Entrance Fee (MVEF) is required for every vehicle entering Idaho State Parks (including visitors to campers).
Location
How far outside of Boise? ~205 miles depending on the route taken. This make the drive around 3 hours and 15 minute drive depending on traffic and stops.
Overnight Accommodations
The park has a total of 40 campsites, with the breakdown being 1 Deluxe Cabin, 36 electric spots, 1 house, 1 shelter, and 1 premium yurt.
Costs:
| | | |
| --- | --- | --- |
| | Resident Costs | Non-Resident Costs |
| Electric Campsite | $28 per night | $31 per night |
| Deluxe Cabin | $195 per night | $215 per night |
| House | $120 per night | $132 per night |
| Premium Yurt | $150 per night | $155 per night |
You can book stays in any Idaho State Park for up to 9 months in advance from today's date.
Weather
The current weather can be found here.
Current Seeing Conditions/Forecast Charts
The following cleardarksky chart provides a forecast/clear dark sky chart, as Castle Rocks State Park is adjacent to the City of Rocks National Reserve.

The following clearoutside.com chart will provide a great resource for the skies for those who want to visit.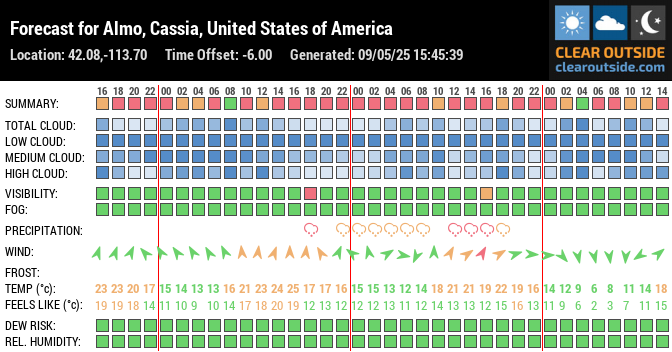 Make sure to follow us on Twitter and Instagram, and make sure to view our other unique astronomy sites such as this one for more places to view astronomy in the Pacific Northwest.