Overview
Located on the Oregon Coast on the Pacific Ocean, Cape Blanco State Park is a Bortle 2 scale site with excellent dark skies due to its distance from cities and other light pollution. Forming the westernmost point in the state of Oregon, Cape Blanco State park is the furthest point west of any point of land in the contiguous United States, except portions of the Olympic Peninsula in Washington, including Cape Alava, the true westernmost point.
This scenic park is a destination for hiking, and the nature. With 8 miles of trails, there are many great hikes and viewing opportunities in the area and around the beaches.
Location
How far outside of Portland? ~274 miles depending on the route taken. This make the drive around 5 hour drive depending on traffic and stops.
Overnight Accommodations
Reservations can be made 6 months ahead of time. There are 67 total campsites, 2 ADA standard sites, 4 cabins, 1 group tent, 8 horse site, 2 host sites, and 50 standard sites.
Weather
The current weather can be found here.
Current Seeing Conditions/Forecast Charts
The following cleardarksky chart is near Bandon, Oregon, which is roughly 28 miles from the park, which is the closest cleardarksky site to the park.

The following clearoutside.com chart will provide a great resource for the skies for those who want to visit.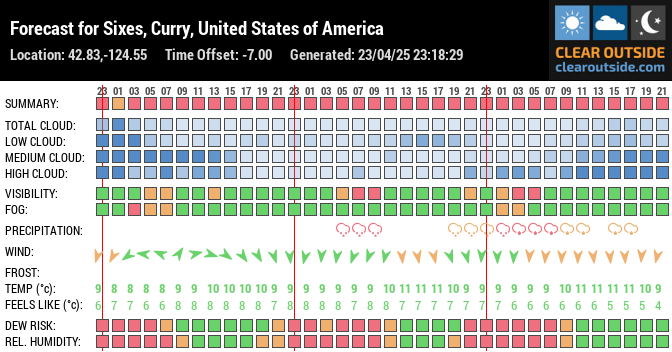 Make sure to follow us on Twitter and Instagram, and make sure to view our other unique astronomy sites such as this one for more places to view astronomy in the Pacific Northwest.