Cannon Beach is a small coastal city in northwest Oregon. It's known for its long, sandy shore and for Haystack Rock, which is a seasonal haven for tufted puffins. Canon Beach is a great place for viewing the ocean and taking DSLR photography. However, there isn't camping available on the beach and we recommend finding camping in the area.
Canon beach is close to other amazing areas such as Ecola State Park.
Location
How far outside of Portland? ~79 miles depending on the route taken. This make the drive around 1 hours and 24 minute drive depending on traffic and stops.
Overnight Accommodations
There aren't overnight accommodations at Cannon Beach. However, the beach is close to Nehalem Bay State Park and Fort Stevens State Park, both of which have available camping
Weather
The current weather can be found here.
Current Seeing Conditions/Forecast Charts
There isn't a cleardarksky chart for the site.
The following clearoutside.com chart will provide a great resource for the skies for those who want to visit.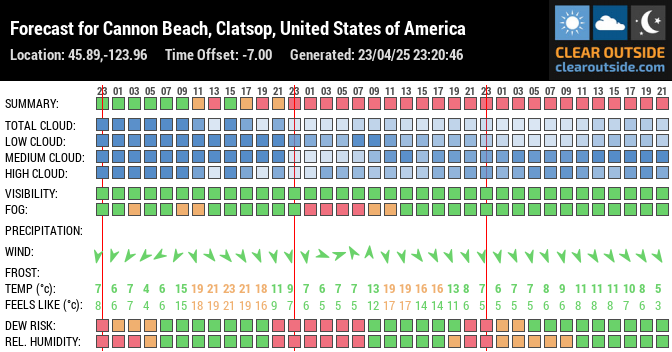 Make sure to follow us on Twitter and Instagram, and make sure to view our other unique astronomy sites such as this one for more places to view astronomy in the Pacific Northwest.