Bates State Park Overview
Bates State Park is a state park located in Grant County, Oregon, USA, near Prairie City. With 131 acres acres, the Park is located 4,070 feet (1,240 m) above sea-level. The park is open from May to October and was purchased from the county in 2008 by the Oregon Parks and Recreation Department. The site is 1 of the Bortle 2 sites that are in Oregon, which is available to camp at.
The day use area contains locations for picnicking and several miles of hiking trails are available. Bates State Park was once the site of a thriving lumber mill and an adjacent company town set in a lush valley in the Blue Mountains. The mill closed in the mid-1970s. Families–and in some instances their houses–moved to nearby Prairie City and John Day. The mill buildings and town were dismantled; the land sat empty for more than 35 years. Interpretive panels describing the history of the town and the mill era are on display.
There are a plethora of viewpoints to use for photography such as areas around the lake and atop Indian Rock and Vinegar Hill.
Fun Fact: The world's largest living organism is just a few miles away from Bates State Park, which can be found off of Highway 26 before reaching Dixie Campground. This organism is a mushroom, which is called the Honey Mushroom or the Humongous Fungus.
Location
How far outside of Portland? ~502 miles depending on the route taken. This makes the drive around 6 hour depending on traffic and stops. Without stops and ideal traffic, the route can take around 5 hours and 25 minutes to drive.
There shouldn't be any issues with paying for parking, but stay on the roads and pull over to the side when going on a hike.
Overnight Accommodations
There are 28 primitive sites for tents or self-contained RVs, which are available on a first come, first served basis. There are 6 hiker/biker campsites, each with picnic table and fire ring that are available on a first come, first served basis.
Weather
The current weather can be found here: https://weather.com/weather/tenday/l/Bates+OR+USOR0025:1:US
Current Seeing Conditions/Forecast Charts
There is not a ClearDarkSky.com chart in the Bates, OR or Bates State Park that provides an available forecast. The chart below is courtesy of Clearoutside.com.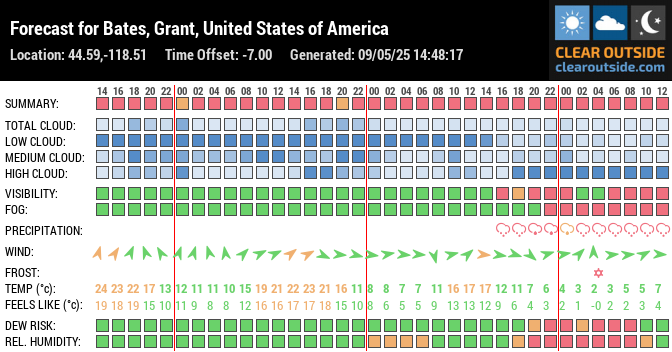 Make sure to follow us on Twitter and Instagram, and make sure to view our other unique astronomy sites such as this one for more places to view astronomy in the Pacific Northwest.