Oregon Islands National Wildlife Refuge is a U.S. National Wildlife Refuge off the southwestern Oregon Coast, comprising 1 of 6 National Wildlife Refuges at the Oregon Coast National Wildlife Refuge Complex. The Oregon Islands provides wilderness protection to 1,853 small islands, rocks, and reefs plus two headlands of Oregon's coastline from the Oregon–California border to Tillamook Head.
Spanning the entire length of the Oregon coast, the wilderness islands and windswept headlands of Oregon Islands National Wildlife Refuge are celebrated for their abundant wildlife, spectacular views, and rugged grandeur. Rocky islands and sheer cliffs provide isolated breeding and resting habitat for diverse communities of birds, marine mammals, and plants along the wave-battered coastline.
These are a great opportunity to take some great photos of the beach and the ocean. The Oregon beaches are owned by the state and really lack the ability to camp, so please be careful with making sure you're not trespassing.
Location
How far outside of Portland? ~247 miles depending on the route taken. This makes the drive around 4 hour and 15 minutes depending on traffic and stops.
Overnight Accommodations
There aren't camping on site, but its a great place there are some places near Bandon, Oregon.
Weather
The current weather can be found here: https://weather.com/weather/tenday/l/Bandon+OR?canonicalCityId=ca50639bb8e58e716e0aca580eee154d50e3397871242a4c80e7a5ddf675fb55
Current Seeing Conditions/Forecast Charts
The closest clear dark sky chart is from Bandon, which is shown below.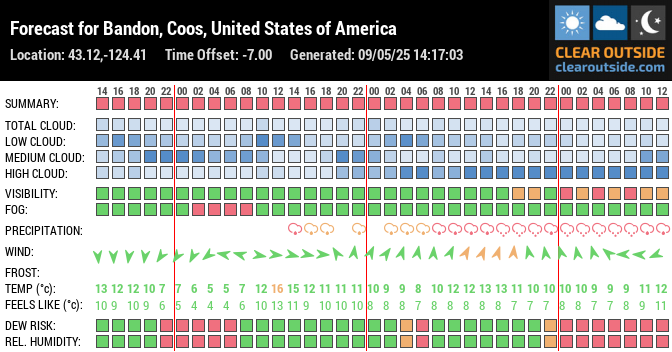 Make sure to follow us on Twitter and Instagram, and make sure to view our other unique astronomy sites such as this one for more places to view astronomy in the Pacific Northwest.